Loading Bay Equipment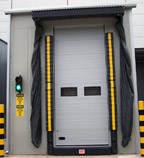 All of our in-house engineers are experienced installers and repairers of a vast array of loading bay equipment, with experience in working on all types of projects, from one bay installations and repairs to multiple bay distribution centres.
Our aim is to offer a quick, reliable and professional service, either to the equipment supplier or directly to the end user. We promote a 'can do' attitude and can often offer suggestions for cost effective solutions not previously considered.
Whilst we have working relationships with most loading bay equipment manufacturers, we are not in partnership with any one manufacturer in particular. This allows us to assess your exact requirements and offer the solutions and equipment best suited to your needs and budget restraints from the entire product range.
Our range of services includes installation, routine services, repairs, maintenance, refurbishments, upgrades and modifications.